For the boater wanting high water experience under controlled conditions.
Please call our office for more details and dates. Water flows vary year to year.
Cost $500 per person minimum of 8 participants
 To be covered: 
Scouting rapids and reading water
Guiding paddle rafts and/or oar boats through high water
What is involve, participants will be allowed to guide our rafts (with our guide in the boat) through class 4-5 rapids. Boats will be shuttled back up river so there will be access to running the rapids multiple times.
Cost $350 per pers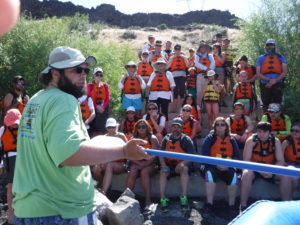 on minimum of 8 participants
Basics of raft guiding with emphasis on getting licensed by the State of Idaho
Workshop for boaters wishing to learn the fundamentals of guiding rafts in class 3 & 4 water. Contact us for additional information and class agenda.
Women only Rafting and Kayaking Adventures
Cost $350 per person minimum of 6 participants
Led by our Girl Guides, this Workshop will show you the basics of running rafts, kayaks, and canoes in Class I to Class III waters.
Equipment and logistics are included, along with additional emphasis on safety and environmental issues associated with the river.
Call for more details and dates