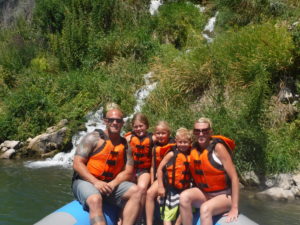 Idaho Guide Service suggests that you wear comfortable, quick-drying clothing, soft-soled shoes or river sandals (not flip-flops), a hat, sunglasses with a fastener, and sunscreen. During cold  weather please do not wear cotton. Polypropylene layering works best. We will provide in extra cold weather: wetsuits, booties, and  splash jackets.  Our goal is to keep you comfortable.
Idaho Guide service will provide all necessary equipment for your trip. We do recommend a reusable water bottle, waterproof camera, and dry clothing for after the trip.
If you have any medicines that need to be brought along on a trip please let the office know in advance.
If wearing hearing aids please be advised we do ask that they are not taken on the river.
What's the river like? How big are the Rapids?
The Salmon River and the Hagerman Section of the Snake River are considered to be a class II+ pool and drop system. Most rapids are class II+, III, with some class IV rapids at certain river flows.  Class III rapids have large splashy waves, fun playful holes, and exciting for all ages.  Class IV rapids usually have large holes and boulders that  require expert maneuvering.  Pool and drop refers to after the rapid there will be some calm water below. This is a great place to watch other rafts come through and get ready for the next rapid.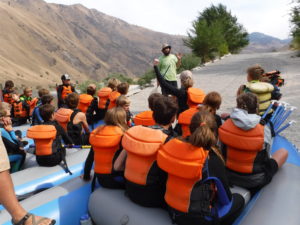 Yes!  The most common injuries are sunburns, and dehydration. Wearing sunscreen and drinking plenty of water is a must. Raft flips are rare in normal water flows. Trips ran during Spring and early Summer at higher water flows can have the possibility of flipping.
Idaho Guide Service has an excellent safety record; however, whitewater rafting can have some unpredictable mishaps. You will be given safety instructions by your guide prior to the trip. Idaho Guide Service will provide you with a professional Type V person float device (PFD). Your PFD will be worn at all times while on the river. Our guides are trained to know their guests abilities and do not take unnecessary risks.  All Idaho Guide Service guides are chosen for their professionalism and abilities.  Guides are licensed by the State of Idaho and have a minimum of First Aid and CPR. We encourage our guides to take whitewater rescue courses and to increase their medical training.
How many rapids are there?
 The number of rapids on different sections all depends on the flow of the river.  Some rapids are large at high water while others are bigger at low water. If there are any concerns about the rapids please ask the office when booking your trip.
Do I need to bring drinking water?
Yes. It is always a good idea to bring a reusable water bottle. We will provide coolers with lemon water for you to refill your bottles.  We also will have reusable cups for those without bottles. We do not allow alcoholic beverages while on the water. 
From years of experience, Idaho Guide Service believes that for extended trips on the Salmon River the age of 8 years and up is best. On our day trip sections on the Snake River we recommend ages 6 and up.
Adults that are responsible for the youth on the river trip know them best. If you have any concerns it is always good to talk with the office about them.
Yes. The guides carry dry bags on all the rafts.  We do suggest you use a waterproof, disposable camera.
No. For the general comfort of all our guests it is better to find a dog sitter while you are rafting.
Idaho Guide Service offers one hour to five day trips. Typically the Hagerman section is 4 hours. On overnight trips it is possible to be on the water up to 6 hours.
Are there discounts on trips?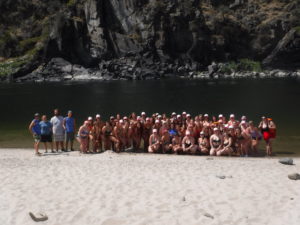 Yes. We give a 10% discount to groups of 10 or more and a 15% discount to groups of 20 or more.  Early Bird discounts are available in the winter and spring.  Please call us for more details on group discounts.
Should I bring my cell phone?
We understand that cell phone are use for cameras. We ask that you limit the cell phones to one per group. 
Please keep the phone on silence. Most of our areas do not have cell service, but we don't want a ringing phone on the river.
Idaho Guide Service is not responsible for lost or wet cell phones
Idaho Guide Service does not provide alcohol for the guests.
We do not allow alcohol on day trips. If you have it packed in a cooler we will transport it to the take out. This way you can enjoy a cold one on the drive back.
On extended trip you may bring alcohol and we will pack it for you.
Most morning trips meet at 10:30 am Afternoon trip meet at 2:30. When booking your trip the time will be confirmed.
Most importantly all of our trips start in the Mountain Time Zone. 
The Hagerman section meeting place is Lower Salmon Falls Dam, one mile North of Hagerman, Idaho.
When meeting for the Salmon River it is the city park in Riggins, Idaho.
What time do we get back?
Times vary. We tend to go with the flow.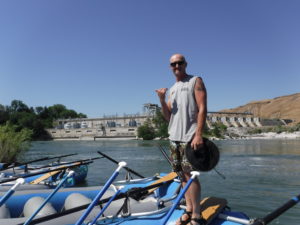 Our guide work very hard to make your trip is memorable.  Gratuities are very important, this tell the guide they have done a good job. Normal tips range from 10 to 20%. We have a saying…If you like the ride please tip the guide!
How do we get back to our car after the trip?
Our vans will pick you up at the end of the trip and shuttle you back to your vehicle.
* For children under 8 years, whitewater rafting is not a recommended activity during cold weather and high water flows, an adult must accompany each child under 13. We reserve the right to limit trips to participants capable of self-rescue.